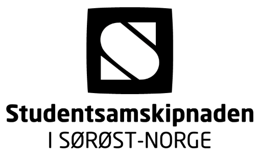 Periode: Nov 2021 – feb/mars 2022
Varighet: 10/12 uker (+ mulig 3 ukers pause i desember)
Omfang: 12 timer per student per uke
Antall studenter: 4
SSN er samskipnad for studentene ved USN, med 8 campus fordelt over Sørøst-Norge. Både den geografiske spredningen og det vide spekteret av studieretninger ved campusene, gir SSN en bred studentmålgruppe. For å drive mer systematisk og målrettet tjenesteutvikling ønsker SSN nå bistand fra et tverrfaglig studentteam til et kartleggingsprosjekt med følgende problemstilling: «Hvordan kan SSN bli bedre kjent med sine målgrupper for å optimalisere videre tjenesteutvikling?».

We are updating this page continuously as we get new projects. Stay tuned here to stay up to date on all upcoming projects. We also post ads on our social media channels and other relevant recruitment channels.
The Innovation Effect combines professional consultancy and young creative minds. We connect student and companies in innovative projects and facilitate valuable co-creation. With our wide range of projects in different sectors, we collaborate with students from many different fields. Stay up to date here if you want relevant work experience through paid project work with real cases..